Importance of Estate Planning for Young Families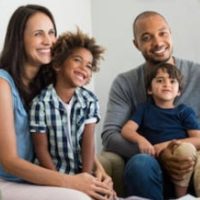 Many families with young kids will have been exposed to the Saturday-morning-cartoon version of wealth. Things like reclusive ducks swimming in oceans of gold coins, and mega mansions sprawled on top of a tiny emerald-green hill. When we compare this to our own, more realistic estate and possessions it might be easy to feel a disconnect between "wealth" and the value of our estates. Such a disconnect, in some cases, that some may feel reluctant to go through the process of formalizing an estate plan.
But this is a mistake you should not fall into.
Why Should Parents Have an Estate Plan?
There are many vital purposes served by creating an estate plan. The estate plan is about more than managing wealth (though it serves this purpose as well) it can hold important directives on several aspects that would affect your family if you pass away unexpectedly.
Some (not all) of the key items you should consider surrounding the creation of an estate plan include:
1: You Can Help Ensure Your Children's Wellbeing
Nobody wants to think about worst-case scenarios. However, it is possible that a parent of minor children might become unable to care for them. If that were to occur, an estate plan helps to ensure that a guardian that you chose can step in and care for your children.
If you do not designate a guardian in your estate plan, it is up to the court to choose the guardian for you. This could lead to lengthy and traumatic custody battles, and a judge who does not know you or your children deciding what is best. Ensure that you have a voice by asserting it in your estate plan.
2: Managing Children's Wealth
Minor children cannot legally manage their own finances. If property passes on to your children then someone will have to be put in charge of managing it until the children come of age.
Many estate planning tools exist that can help parents pre-plan how this wealth will be managed. Various Trusts, for example, can be created. Property or money can be transferred into Trusts, each Trust being managed by a designated "Trustee." This trustee is responsible for managing the trust property for the benefit of the trustees in accordance with the guidelines put in place when the Trust is created.
This pre-planning ensures that trustees (/beneficiaries of the trust are cared for in a manner determined by you.
If you do not have an estate plan that designates the management of your children's wealth in this way, once again the power to make these decisions is deferred to the courts.
Circumstances have changed
Think of the differences in your own life between the ages of 10 years old and 20 years old. Or from 20 to 40. Even if you have created an estate plan in the past, it may be wise to revisit the plan and adjust it to reflect the current circumstances of your life. For example, if you designated your older brother as the guardian of your newborn, and now she is a pre-teen – is that same guardian still the best choice? Are you still on good terms with the designated executor of your estate? Are they still capable of performing that duty? Have you gone through a divorce?
Periodically re-examining your estate plan to ensure it reflects your wishes and the best plans moving forward is always a wise step.
Contact Fort, Holloway & Rogers
The experienced attorneys at Fort, Holloway & Rogers understand the intricacies that will forever tie family law and estate law together. Our Franklin estate planning lawyers are standing by to speak with you about your own estate and plans for the future. Contact our office today.
Sources:
bankrate.com/investing/financial-planning-essentials-young-families/
forbes.com/sites/brianboswell/2022/08/23/the-most-important-thing-missing-from-your-college-savings-plan-is-an-estate-plan/?sh=68621de83e17