How Will A Tennessee Divorce Affect Your Estate Plan?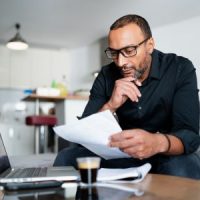 Each year may be made up of 521,600 minutes, but when you are going through a disruptive, strenuous divorce, every one of those minutes might feel like a year in and of itself. It may feel like keeping up with the various questions that absolutely need to be answered now is all you can do– questions such as: what about our home? What about custody of the kids? What about dividing the rest of the assets? As necessary as it is to answer these questions, it is also important for divorcing individuals to think about not just the here and now, but to think about important issues which may be raised down the line: such as their estate.
The question of 'what effect will the divorce have in my estate plan?' should be on the radar of anyone going through the divorce process; but may particularly plague the minds of older individuals. As we have discussed in this blog previously, more and more couples are divorcing in their later years. This makes it even more important to understand how the divorce process affects your estate plan, and to be aware of any steps you may want to proactively take as you step forward into your new chapter.
What Will Happen if I Die Without Changing My Will?
If a former spouse never changes their will, and their ex-spouse is listed as a complete beneficiary of their estate, then the last will and testament will be read as though the ex-spouse predeceased the testator (person passing on the estate). That general rule will apply unless the will specifically provides otherwise. Generally speaking, a former spouse will also no longer have the power to act as executor of a will.
What If We Are Separated, But Not Divorced, at the Time of Death?
Tennessee law (Tennessee Code Annotated 32-1-202) specifically provides that while a divorce or annulment revokes a will to some degree, a separation decree that does not terminate the status of husband and wife does not have the same effect.
What About Trusts?
If you want to rearrange your holdings in irrevocable trusts you are going to need the assistance of a skilled, experienced wills and estates attorney. As the name suggests, irrevocable trusts are not meant to be revoked, and you will need a legal expert to look at your case and see what legal aid might be provided in your particular circumstance.
Revocable trusts can be more easily managed to align with how you want your assets distributed after your divorce.
Are There Proactive Steps I Should Take?
A Divorce might significantly impact your estate and a skilled attorney should review your case to help you understand what needs to be done. The end of your marriage could result in the cut-off of certain tax benefits, resulting in a significant estate tax to be due. This, however, can often be minimized if you work with a skilled attorney.
While there are a number of steps that are good to proactively take post-divorce, a few to keep in mind moving forward include ensuring you understand whether your ex-spouse has a power of attorney, and revoking that if necessary. Divorced individuals should also be sure to look into how the divorce impacts your retirement plans and benefits.
Contact Fort, Holloway & Rogers
The skilled Franklin estate planning lawyers at Fort, Holloway & Rogers have the experience and skillset you need to ensure that your best interests are thoroughly protected; both in your divorce proceedings and beyond. Contact our office today to discuss how our experience can work for you.
Sources:
unicourt.github.io/cic-code-tn/transforms/tn/octn/r73/gov.tn.tca.title.32.html#t32c01s32-1-202
psychologytoday.com/us/blog/the-state-our-unions/202209/divorce-trend-may-reshape-marriage-forever