Theft Crimes In Tennessee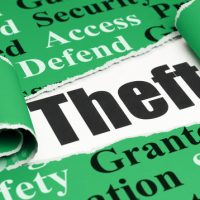 Theft crimes in Tennessee refer to a number of different criminal offenses that all relate to the taking of someone else's property without their consent. Theft crimes can range from small misdemeanors to felony offenses, and if you or someone you know has been accused of committing theft it is important that you speak with a qualified criminal defense attorney as soon as possible about the case. At Fort, Holloway & Rogers, our experienced criminal defense attorneys are prepared to zealously defend your rights. Call or contact us today to learn more.
What is Theft?
Under Tennessee law, theft crimes involve taking someone else's property without their consent with the intent of permanently depriving them of that property. As such, the term "theft" serves as an umbrella term to describe many different types of criminal offenses, including robbery, larceny, embezzlement, receiving stolen property, and fraudulent conversion of property, to name a few. In addition to property, Tennessee law also prohibits the stealing of services, which can occur in any of the following ways:
Obtaining services using fraud, deceit, forgery, or false statements,
Using services meant for others for your own benefit, or
Leaving businesses like restaurants, hotels, or bars without paying for services.
Penalties for Theft
The penalties for theft are based on the value of the property or services taken during the alleged offense. Theft crimes range from a Class A misdemeanor to a Class A felony based on the amount taken during the crime. The following are the classifications for theft crimes in Tennessee:
Class A Misdemeanor: Value of $1,000 or less
Class E Felony: $1,000 – $2,499 or a firearm valued at less than $2,500
Class D Felony: $2,500 – $9,999
Class C Felony: $10,000 – $59,999
Class B Felony: $60,000 – $249,999
Class A Felony: $250,000 or more
Penalties for theft crimes range from less than a year in jail for a misdemeanor offense to up to sixty years in prison for a Class A felony conviction. Fines range from $2,500 to $50,000 in addition to restitution for the property or services stolen as well as attorney's fees and court costs. Conviction also results in a permanent criminal record, which will pop up on every background check for jobs, schooling, and housing. Sentencing for theft crimes can also be enhanced if the defendant is classified as a multiple, persistent, or career offender. This happens if a person is convicted of a third or subsequent theft offense. To learn more about theft crimes and the penalties for conviction in Tennessee, talk to our office today.
Call or Contact Our Office Now
Have you or someone you know been arrested and charged with a theft crime in the Williamson County area? If so, the experienced and qualified Franklin criminal defense attorneys at Fort, Holloway & Rogers are here to help. Time is not on your side, so call the office or contact us today to schedule a consultation of your criminal case now.