How To Find The Right Criminal Lawyer For Your Case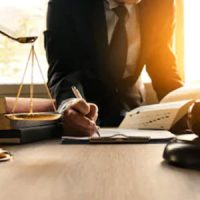 It can be scary when law enforcement suspects or accuses you of committing a crime. A criminal defense attorney is critical to protect your rights and interests during this type of case, but how do you find the right lawyer for you? At Fort, Holloway, & Rogers our experienced and zealous Williamson County criminal defense attorneys are prepared to fight for you. To learn more about your legal options, call or contact our office today to schedule an evaluation of your case.
Ask for Referrals & Do Research
The first step in finding the right criminal defense lawyer for your case is to ask friends and family for referrals. This is particularly helpful if you ask those you know close by, as attorneys they have worked with in the past will likely be knowledgeable about the local court system. In addition to referrals, it is important to do your own research online when creating an initial list of potential criminal defense attorneys for your case. Once the list of lawyers is created, the next step involves narrowing that list to the top contenders.
Narrow the List
It is important to narrow the list of potential attorneys in order to save yourself time during this critical juncture in a criminal case. Eliminate any criminal defense attorneys who do not regularly work close by. Take off any lawyer that does not specifically handle your type of criminal case. Remove lawyers that have negative reviews on third party websites or that do not have a good reputation with friends and family that you know. Once the list is narrowed, it is time to contact the remaining lawyers on the list and schedule interviews.
Interview Potential Attorneys
The last step in the process of finding the right criminal defense lawyer for your case is to interview the finalists on your list. It is important to go into each interview with a list of prepared questions that you want to ask and be prepared to answer questions about the details of your case. Some of the most common questions asked in criminal defense lawyer interviews include the following:
How long have you practiced criminal law?
Do you handle criminal cases like mine?
What is your success rate?
How often do you settle cases? Take cases to trial?
Do you have referrals for past clients that I can speak to?
How often do you appear in the courthouse where my case will take place?
Will you be the one working on my case, or someone else at the firm?
How strong is my case?
What will my defense cost?
With questions like these, you should be able to find the lawyer that is right for you.
Talk to Our Office Now
Have you or a loved one been accused of committing a crime in Williamson County? If so, the experienced and knowledgeable Franklin criminal defense lawyers at Fort, Holloway, & Rogers are here to help protect your freedom and defend your rights. Call the office or contact us now to speak with one of our dedicated criminal defense attorneys today and schedule a consultation of your case.