Tennessee Underage Consumption Laws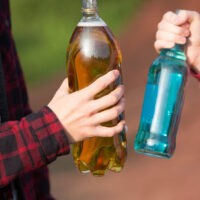 Across the United States, the legal age for drinking alcohol is 21 years old, and anyone who consumes alcohol under that age is committing an illegal act. Tennessee takes accusations of underage drinking very seriously, and conviction for underage consumption can stay on a person's criminal record for life. If you or someone you know has been accused of underage drinking it is important that you speak with an experienced criminal defense attorney right away. Call or contact Fort, Holloway, & Rogers in Williamson County today to learn more.
What is Underage Consumption?
Under Tennessee law, a person is guilty of underage consumption if a prosecutor can prove that the person accused is under the age of 21 years old and consuming intoxicating liquor or beer. Conviction for underage consumption can result in a Class A misdemeanor on a person's criminal record, a jail term up to 11 months and 29 days, and fines up to $2,500 in addition to other court costs and fees. The judge may also order penalties such as community service, alcohol education programs, rehabilitation treatment, and more. This type of offense can be difficult to erase from a criminal record, meaning that it will show up on every background check for school, jobs, and housing.
Other Tennessee Underage Drinking Laws
Underage consumption is not the only law associated with drinking alcohol underage. Depending on the circumstances of the case, a person can also be arrested and charged with the following:
Minor in possession: If someone underage is found in physical possession of alcohol, even if they are not consuming it.
Purchase of alcohol by a minor: The purchase of alcohol with or without false identification. Those furnishing alcohol to minors can also be arrested and charged.
Internal possession: An underage person can be charged with this offense if they were not seen consuming alcohol, but it is detected in their system through a chemical test.
Driving under the influence: Operating a vehicle with any level of alcohol in the system is illegal for underage drivers and comes with severe penalties, such as driver's license suspension and thousands of dollars in fines.
Defenses to Underage Consumption Claims
The state has the obligation to prove beyond a reasonable doubt that an underage person consumed alcohol in order to prove an underage consumption claim. However, there are defenses available to someone accused of this offense. In many cases, if the police break up a party or other gathering where alcohol is present, they will arrest anyone present for underage consumption, regardless of whether they actually saw that person consuming alcohol. In other cases, a person might be arrested for underage consumption because they appear drunk, but it could be due to a bad reaction to medication or another substance. Talk to an experienced Tennessee criminal defense attorney today to learn more about your legal options.
Talk to Our Office Now
Have you or a loved one been arrested and charged with underage consumption? If so, the experienced Franklin criminal defense attorneys at Fort, Holloway, & Rogers are here to help. Call the office or contact us today to schedule a consultation of your case now.