Modifying Child Custody or Support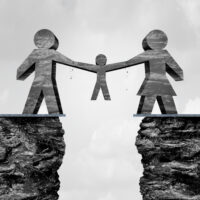 In most cases where the parents of a child are not in a relationship and do not live together, whether due to divorce or other circumstances, one or both parents will seek to define the support and custody arrangement for the child. In some cases, the parents have an amicable relationship and can come to an agreement regarding child custody and support without court intervention. Regardless of the cordiality of the co-parent relationship, however, it is prudent for the parents to reduce the agreement to writing and file it with a court that has jurisdiction over the matter. This ensures that the terms are clearly defined and allows for the enforcement of the agreement should the relationship sour. In cases where the parents are unable to come to an agreement regarding their parental rights and obligations, either parent may file a lawsuit seeking custody or support of a child, and the court will ultimately issue an order determining custody and support. In either circumstance, it is important to include a provision that will allow for a modification of both the custody and support of the child.
Modifying Child Custody
As a child grows older circumstances change, and what may have worked best for a child or his or her parents when he or she was younger may no longer be practical or beneficial when the child is older. Situations that may necessitate a change to a child custody arrangement include a change in the school the child attends or an increase in a child's needs due to situations such as illness or mental health or developmental issues. Additionally, if a parent is in violation of the current custody arrangement, it may be grounds for modification.
Often as a child matures, he or she may want to spend more time with one parent and may ask the parent to request a modification. In some cases, a parent may have a concern regarding his or her co-parent's ability to properly care for the child, either due to illness, increased job requirements or travel commitments, or other circumstances, and may request a modification. If the parents are unable to come to an agreement regarding a modification to the custody arrangement, they can petition the court for a modification and the court will determine whether a modification is warranted. As with all issues involving a child, the court will assess whether the modification is in the best interest of the child before deciding to grant it.
Changes That May Justify Modifying Child Custody
Change of school
Change in mental or physical health of the child
Change in mental or physical health of a parent
Violation of a current order
The child's preference
Change in job requirements or responsibilities
Modifying Child Support
Child support orders or agreements are often modified as well. If there is a change in the custody of a child, it may precipitate a request for a change in the support agreement or order, as the amount of time each parent is required to provide for the child will have changed. As a child grows the cost of caring for him or her may change, which is also grounds for modification. For example, there may be a decrease in cost when caretakers no longer must be paid to care for the child, or an increase due to greater costs of activities or educational expenses. Additionally, a support order or agreement may need to be modified due to a fluctuation in the income or expenses of a parent.
If a parent is no longer able to meet his or her support obligation, he or she can request a modification. Similarly, if either parent receives a substantial increase in income, his or her co-parent may request an increase in the support obligation. As noted above, a court choosing whether to modify a support agreement will always act in the best interest of the child involved.
Changes That May Justify Modifying Child Support
Change in custody
Change in childcare costs
Change in other expenses for the child (such as extracurricular activities, school fees, etc.)
Change in income or expenses of a parent
Remarriage