What Is A Tennessee Cohabitation Agreement?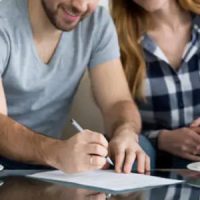 Unmarried couples do not receive the same protections under the law as married couples, even when they cohabitate as though they are married. In order to establish certain rights and protections, some couples choose to create a cohabitation agreement. An experienced family law attorney, like those at Fort, Holloway, & Rogers, can explain what goes into a cohabitation agreement and help draft an agreement for you and your loved one. If you are interested in learning more about Tennessee cohabitation agreements, call or contact our office today to schedule a consultation.
Establishing Property Rights
One important aspect of a cohabitation agreement is the ability to establish property rights. For a married couple, equitable distribution would apply to property in a divorce, but there are no such protections for a cohabiting couple. A cohabitation agreement can identify what property is separate and what is subject to division if the couple were to separate. This document can also bolster estate plans by identifying specific property that would go to each other when one partner in the relationship dies. A cohabitation agreement can also establish financial support for one person in the relationship similar to alimony if the relationship ends.
Power of Attorney and Healthcare Proxy
A cohabitation agreement can also create additional rights for cohabiting couples that are normally provided to married couples. One example is the inclusion of a power of attorney form that gives a cohabiting partner the right to make legal and financial decisions on behalf of the other in cases of incapacitation. Similarly, a healthcare proxy form can also be included as part of the cohabitation agreement that gives the partners medical decision making authority if one becomes unable to make those decisions on their own. These documents are particularly important for cohabitating couples, as family members may be able to strip this decision making power away from significant others if these documents are not in place.
Limitations on Cohabitation Agreements
It is important to note that there are limitations to a cohabitation agreement in Tennessee. For example, a couple is not allowed to determine child custody or the amount of child support in a cohabitation agreement if they have a child together. Those types of decisions must be approved by the court and viewed through the lens of what is in the best interests of the child, not the parents. Cohabitation agreements also cannot contain provisions that go against public interest or are considered unconscionable contract terms, such as leaving one partner with nothing after a separation or demanding intimate acts as a part of the agreement. To learn more, talk to our office today.
Call or Contact Fort, Holloway, & Rogers
Are you cohabitating in the Williamson County area and wish to create a cohabitation agreement to protect you and your loved one? If so, the experienced and knowledgeable Franklin family law attorneys at Fort, Holloway, & Rogers are here to help. Call the office or contact us today to schedule a consultation of your legal needs now.