Kevin Costner's Alleged Prenuptial Agreement Terms Upheld in Court – What Can be Included in a Premarital Agreement in TN?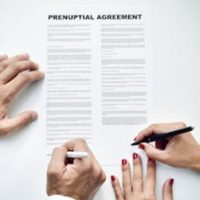 The judge overseeing the divorce of Kevin Costner and his soon-to-be ex-wife Christine Baumgartner delivered a consequential ruling this week. The recent headlines highlight the potential impact of crafting a valid prenuptial agreement. This article aims to highlight the case at hand and discuss several items that you can include in a prenuptial agreement in Tennessee.
Ms. Baumgartner was (and at the time of writing this article, still is) living in a home she had shared with Mr. Costner for many years. This week's ruling from the judge determined that Ms. Baumgartner must vacate the property by the end of the month. This is presumably in accordance with an alleged prenuptial agreement in place between the couple.
The home in question was purchased as separate property before the couple was married. The prenuptial agreement allegedly dictates that in the case of divorce Ms. Baumgartner would move out of the house within 30 days. The prenuptial agreement also stipulates that Ms. Baumgartner cannot live in any property owned by Mr. Costner.
Ms. Baumgartner petitioned for a longer period of time to remain in the residence, stating that the difficult Santa Barbara housing market was making it tough to find a new place to live.
While the housing market may very well be hard to break into, the judge apparently did not find that relevant to the terms of the contractual agreement as set forth in the alleged premarital agreement. Mr. Costner's legal team has apparently stated that securing his right to access his properties is an important priority to Mr. Costner, after a previous divorce left him without a home base and unable to live in the property he had called home. Pre-marital agreements are often created for this very reason.
So what can be included in your own prenuptial agreement in the state of Tennessee?
Prenups and Property
Tennessee adheres to the laws of equitable distribution. This means that in the case of divorce, any property or debt acquired by either party in the course of the marriage is labeled "marital property" and will be subject to equitable distribution. What is "equitable" varies in every situation, and is generally not a 50/50 split. The court considers intangible factors when making their determinations. An experienced attorney can discuss potential nuances in your own specific circumstances.
What Can a Tennessee Prenuptial Agreement Include?
In Tennessee, a prenuptial agreement can potentially pre-designate many things, including:
Division of accounts
Separation of property
Post-divorce living arrangements
Division of property
Requirements for purchasing life insurance
What Cannot be Included in a Tennessee Prenuptial Agreement?
Prenuptial agreements in Tennessee cannot, however:
Be used to bind a spouse to certain intimate behaviors
Be used to bind a spouse to terms concerning reproduction: such as the number of children that will come into the marriage
Be used to Induce either spouse to engage in criminal/illegal behavior
Contact Fort, Holloway and Rogers
Prenuptial agreements can be powerful tools that save you lots of time, money, and heartache down the road. If you are interested to see how a prenuptial or postnuptial agreement could be utilized in your own affairs, contact the experienced Franklin family law attorneys at Fort, Holloway & Rogers today.
Source:
foxnews.com/entertainment/kevin-costners-estranged-wife-christine-must-move-out-california-home-end-month-judge-rules