Tips for Navigating Back-to-School for the Newly Divorced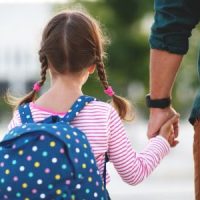 You have just gone through a divorce: there was a total upheaval of what "norma" looked like in your household. You may not even still reside in the SAME household. But regardless of whatever turmoil you, your ex, and your kids have gone through, you probably viewed the divorce and custody agreement as the finish line. Once you got there, the upheaval would be over…right?
Enter: Restarting school.
The beginning of the school year is disruptive at the best of times. There are changes to schedules, lots of new people introduced into your kids' lives, and potentially new extracurriculars and their schedules to account for as well. A newly divorced family may also have to deal with a new home, new school, and new parenting schedule. And that's just the kids.
As a newly divorced parent, you are going to need to adjust to less time with your children, and there are likely some new things you need to take on when you are with your kids that you are not accustomed to. This article addresses some important things to remember as you set off at the start of the school year as a new co-parent. This article provides some tips that can help your jumpstart to the year go more smoothly, and help you identify what you can do if you uncover issues that need to be resolved legally.
Update School Contacts
Make sure that your child's school has your current address (which may be different from a year ago), as well as your current phone number and email. It is also important to make sure the school is aware of any custody restrictions, such as a family member who is not permitted to have access to your kid or is not allowed to pick them up. Open communication with the school is imperative in ensuring your child has a stable and secure environment while there.
Communication
Taking the time to meet and speak with your child's teacher can really benefit your kids. The teacher may be able to approach your child with more understanding if they realize that they are going through a major life change. And taking the time to insert yourself into their world can reassure kids that even though so much of their world is changing, you, as their parent, are a constant and there to support. Even if they cannot always see you.
Remember that communication with your kids is also key. With a divorce comes more limited time with your kids. Be present. Make your time count. The better you are able to communicate with them, the more you can recognize and help your kids through any issues they may be having in this adjustment period.
Actively Co-Parent
There is perhaps nothing more important you can do for your children than strive to foster a healthy relationship with your co-parent. It may be difficult to do, but school starting up again will change the routine/requirements of your kids. You will need to successfully navigate who is picking the kids up from school or child care, who will be responsible for extra-curricular activities, how you will manage any bad behavior from the kids, etc. If you openly communicate with your ex you can avoid miscommunications. And remember, the kids are really the ones who suffer when their parents cannot work together.
Establish a Consistent Schedule
Related to the point above: it is enormously beneficial for kids to have a predictable routine. After the upheaval of the divorce, predictable structure is so important. Little things such as knowing they will eat at a specific time every night, that a specific parent will pick them up on a certain day, that they will spend the day at this home vs another home, can do a lot for helping your kids to regulate themselves.
As you pursue the establishment of a predictable schedule, you may find that the demands of life require you to deviate from the established parenting plan/custody agreement. If you find yourself needing to make formal changes to the established agreements, an experienced family law attorney can help you.
Contact Fort, Holloway & Rogers
It is not uncommon for changes to be made to child custody arrangements. If your established agreement does not have the flexibility that you need, or is otherwise not serving you, contact the experienced Franklin post-divorce modification lawyers at Fort, Holloway & Rogers. Our team has the experience and expertise you need to navigate through any legal issue you might be facing.
Sources:
forbes.com/advisor/legal/child-custody/reasons-judge-will-change-custody/
williamsoncounty-tn.gov/DocumentCenter/View/16169/Permanent-Parenting-Plan-Order?bidId=