Grounds To Appeal A Child Custody Case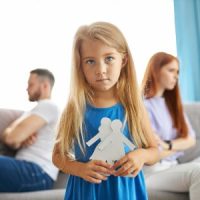 Child custody is often one of the most emotional and difficult issues for parents to determine in a Tennessee divorce. If the matter has to go to trial to resolve, oftentimes it is the judge or a jury who decides the outcome, but they do not always get the decision right. If you find yourself in this scenario, you may have the option to appeal the verdict, but you only have a small window of time to act and only a few reasons why an appellate court will take up the case. At Fort, Holloway & Rogers our experienced Franklin divorce lawyers can help you file an appeal in your child custody matter. To learn more, talk to our office today.
What is an Appeal?
An appeal is a request for the next level of courts to review the decision of the trial court in your case. In Tennessee, an appeal must be filed within thirty days of the final judgment being rendered at the trial level. An appeal consists of a written brief that is prepared by the attorney which details the reasons why the trial court erred in their decision in addition to oral arguments, where the attorney has an opportunity to argue the case in front of a panel of appellate judges. Once oral arguments are complete, the appellate court will review the case and render one of three decisions: reverse the decision of the lower court, uphold the trial court's decision, or remand the case back to the trial court level for additional hearings with instructions on the case.
Grounds for Appeal
It is important to note that there are only a few specific reasons why a person can appeal a trial court's decision. Simply disagreeing with the outcome of the case is not enough for an appeal – there must be an issue of substantive or procedural law that was violated during the trial that substantially altered the outcome of the case. Common grounds for filing an appeal in a child custody matter include the following:
Abuse of discretion: The judge may have abused their discretion by allowing unreliable testimony, disallowing important evidence, or showing a strong bias to one parent
Misinterpretation of facts or law: The court may have misinterpreted a state law incorrectly or accepted/rejected facts submitted from a parent in the case
Ineffective assistance of counsel: Every parent has the right to effective counsel, and if your lawyer failed to put on a case that could have won your custody hearing you may be able to appeal.
If any of these issues sound like they may apply to your case, talk to our office today to learn more about whether you may qualify to appeal your child custody matter.
Call or Contact Our Office
Filing an appeal is a complex issue that should only be handled by experienced and qualified attorneys. At Fort, Holloway & Rogers our knowledgeable lawyers have helped many clients appeal their child custody issues and are here to help. Call or contact our office today to learn more.
Source:
law.cornell.edu/wex/appeal