Common Questions On Unwed Fathers, Child Support, And Custody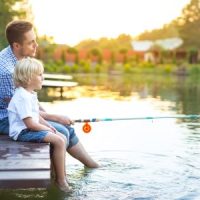 There is often a lot of confusion within the general public about what "the law" says about various topics. The processes and responsibilities applying to unwed fathers and custody or child support issues is one such contentious item. Perhaps this confusion is due, in part, to there being countless laws and regulations in effect throughout our nation. Some laws are enacted at the Federal level, and so apply to every state, while other laws only exist within the specific state in which they are enacted. Issues such as custody will vary widely across the states, so it is unsurprising that some confusion may arise as to what, exactly, is required of an individual.
The rules and processes applying to one family living in California and going through custody proceedings could be vastly different from the rules and processes that apply to a family going through a custody proceeding in any other state. It is, therefore, vitally important to understand what set of laws will apply to you as you pursue a working knowledge of custody and visitation rules that will apply to your specific situation.
In Tennessee, there are many unwed fathers who are unsure of what their rights and responsibilities really are under Tennessee law. This article aims to briefly address some common questions.
Do Unwed Fathers in Tennessee Have a Duty to Pay Child Support, Even if the Child's Mother Does Not Allow Them to Visit?
While situations can vary, generally speaking if a father's paternity of a child has been established then that father has a duty to provide for that child's needs.
The Father's duty to pay child support exists independently of any other court order, as well. We will illustrate this with an example. Say that a father's paternity has been established and he has been ordered to pay child support. Let's say that the court also simultaneously ordered that the father be allowed to visit the child/or was granted some amount of custody. The Father's duty to pay child support is not contingent upon the mother honoring her own court order. The Father's duty to pay child support does not dissipate due to a mother's violation of the custody order. The enforcement of the custody order would need to be further addressed via the appropriate legal processes, potentially a petition for contempt filed with the court. An experienced attorney can provide advice on the specific facts of your situation.
Do Unwed Fathers in Tennessee Have a Right to Visit Children because they Pay Child Support?
Again, generally speaking, no. Per statute Tenn. Code Ann. § 36-2-303, even if the parentage of the unwed father is established a father does not have a legally guaranteed right for custody or visitation until a court order is issued granting them the right to parenting time.
Contact Fort, Holloway & Rogers
Unwed fathers in Tennessee have rights and responsibilities regarding their children, just as every father in the U.S. has rights and duties pertaining to their offspring. The nuances of navigating the legal process pertaining to unwed fathers may seem daunting. However, the experienced Franklin family lawyers at Fort, Holloway & Rogers have guided countless clients through every wrinkle the family court system throws their way. Contact our office today to schedule a consultation and receive specific advice tailored to your situation.
Sources:
TENNESSEE CODE UNANNOTATED CUI| PAW Document Page (lexis.com)
tn.gov/content/dam/tn/human-services/documents/Establishing_Paternity.pdf