What To Expect In A Family Law Trial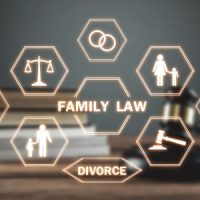 Going to trial in a family law matter is often the last resort in a case, but there are times when other methods of resolution like mediation or settlement agreements simply do not work. If an issue in your divorce or family law case goes to trial, it is important that you know what to expect throughout the process. At Fort, Holloway, & Rogers, our experienced and compassionate attorneys are here to walk you through every step of the process. If you would like to learn more, call or contact our office to schedule a consultation of your case today.
Pre-Trial Preparation
The first step in a family law trial is the pre-trial preparation. Much of this step is part of the discovery process, where each side has an opportunity to uncover and examine evidence in the case. This includes completing legal research, conducting depositions, requesting interrogatories, submitting requests to produce documents, interviewing witnesses, and conducting an independent investigation into any specific claims.
Pre-trial preparation also involves the preparation for the actual trial. This may include researching and hiring expert witnesses, researching appellate cases, preparation of pre-trial pleadings, preparing witnesses for examination or cross-examination at trial, drafting opening and closing statements, and organizing all exhibits and evidence for presentation during the case.
The Trial
Once all pre-trial preparation and hearings are complete, the actual trial occurs in court. Typically, the plaintiff's lawyer presents their opening statement, followed by the defense counsel. The plaintiff's lawyer then presents their case, which includes the presentation of evidence and examination of witnesses. The defense has an opportunity to cross-examine any witnesses, and then they have an opportunity to present their case, with the plaintiff's lawyer cross-examining any witnesses they present. Once both sides have had a chance to present their sides, they each give a closing argument to the court. Then, the judge weighs the evidence and renders a decision on the case.
The court's decision can take days or even weeks to occur, which can be frustrating when the outcome determines so much of your life. Once the judgment occurs, each side can either accept the outcome or appeal the decision to the appellate court within thirty days. In order to appeal, there must be a substantive or procedural issue identified at the trial level that was serious enough to sway the outcome of the case. If an appeal is accepted, it may take another six to eighteen months for that process to be complete. To learn more about how a family law trial works, talk to our office today.
Call or Contact Us Now
Are you concerned about an issue in your family law matter going to trial, and you wish to speak with a lawyer to learn more? If so, the skilled and experienced Franklin family law attorneys at Fort, Holloway, & Rogers are here to help. Call the office or contact us today to schedule an evaluation of your case now.
Resource:
law.cornell.edu/wex/trial